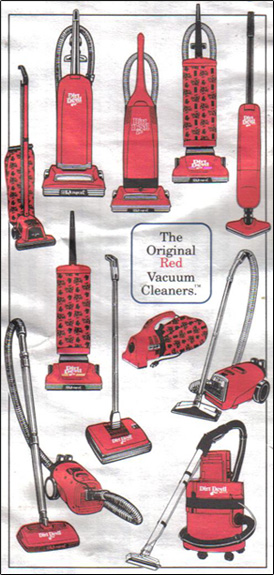 It all started at a backyard garage in Cleveland, Ohio in 1905. Phillip A. Geier started producing his metal cleaners by hand and it makes us as one of the world's oldest vacuum cleaner companies. The company grew and produced vacuum cleaners, mixers, hair dryers and washing machine units.
Then the company introduced the industry's first hand-held vac, the "Royal® Prince," in 1937. By the time World War II came around, Royal® joined most manufacturing companies across the US swtiching over to military production.
Vacuum cleaner shipments remained strong up to 1953 when the P.A. Geier Company was bought by an investment group, the Walter E. Schott Organization. The Schotts renamed the company Royal® Appliance Manufacturing. However, the new owners decided to dissolve it soon after its acquisition. Royal® was then purchased by a group of employees, headed by Stan Erbor, in 1954. The company thrived under Erbor's leadership, expanded all phases of operations in 1969. Erbor was active in the company until his death in 1981 at age 80.
In 1981, a small group of investors purchased the company and to bring a fresh sales and marketing strategy. With this new leadership, our sales grew from just under $5 million in 1981 to approximately $408 million in 2000.
The new marketing approach included an aggressive advertising strategy and new distribution into mass retail outlets such as Kmart and Wal-Mart. In 1984, Royal® introduced an innovative new product, the Dirt Devil® Hand Vac, which has grown to become Royal's signature product and the largest selling hand-held corded vacuum cleaner in the United States. Since its debut, more than 23 million Dirt Devil® hand vacs have been sold.
Today, Royal® (now TTI Floor Care North America) enjoys 98 percent brand name awareness in the Dirt Devil® name and manufactures uprights, hand vacs, stick vacuums, canister vacs, and carpet shampooers. These products are now sold through major retailers nationwide in the US.
TTI Floor Care North America's mission is to be a premier consumer products company. We strive to recognize the needs of our customers and supply them with quality products that solve their cleaning problems. These philosophies have enabled Dirt Devil® to build brand loyalty derived from strong consumer satisfaction.